Call me crazy but I just wrote a proposal to port Plone to Python 3.
Here are the essentials:
Python 2.7 will end in January 2020 and we need to support Python 3 to ensure a bright future for Plone (nicely put)
Zope and most of our dependencies now support Python 3
Plone 5.2 should support Python 2.7, Python 3 (3.5, 3.6 and 3.7)
Plone 5.2 should be released in early 2019
For specifics, deliverables, a timeline and problems please read the PLIP at
We are late to the Python 3 party and have to make a special effort. A combined push by the Plone community is needed if we want to pull this off. Porting Plone to Python 3 is a mayor undertaking and true to Plone's community spirit since the start of 2016 many people have worked to first move to Zope 4 and then start porting to Python 3. This needs to continue and even pick up speed.
Here is a screenshot that proves that we can do it. This is Plone 5.2 coredev built with the py3.cfg config (with has checkouts of 66 packages) running on Python 3.6. The site has no css/javascript but many of the features of Plone already work: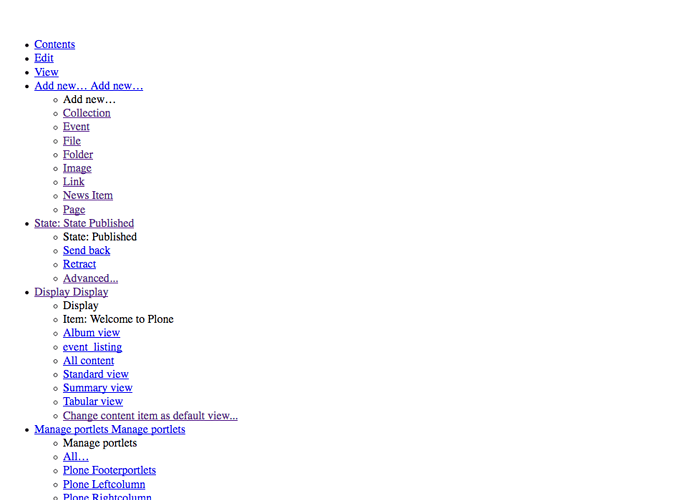 Currently it can only run on on my laptop because I still have changes in 12 packages that I did not yet push because they are hacks and require some thought. I plan to push all of them in the next couple of days so you can give it a try too.
So far so good. But: The PLIP has a lot of deliverables and a tough timeline. Even overseeing this task is to much for one person. This is why I'm looking for a partner.
I'm looking for a co-sponsor of this PLIP who will team up with me to oversee, review and delegate all the tasks that need to be done. The idea is to have a hangout every two weeks to discuss the current state. Also it would be great to have some pair-programming sessions (remote) to work together on some blockers. Another important task is to keep the community and all relevant teams updated about the state of things.
It is not required that you attend any of the sprints mentioned in the PLIP. Going to other sprints and spreading the Python 3-fever there would actually be great. I plan on going to these:
Please ping me if you want to team up!