It's time for a new thread for Plone Mosaic.
Mosaic is the new layout solution for Plone. It's based on the technologies built for Deco, but unlike Deco, it works nicely together with your existing content types and views. Also, it doesn't need to be complete to be usable, but it's possible to polish it into a minimum production quality product, and continue from there.
Deco was revolutionary UX in 2009, and it's shame that Plone could be the last CMS getting it.
Mosaic targets Plone 5.1, but is still [2015-04-28] compatible with Plone 4.3.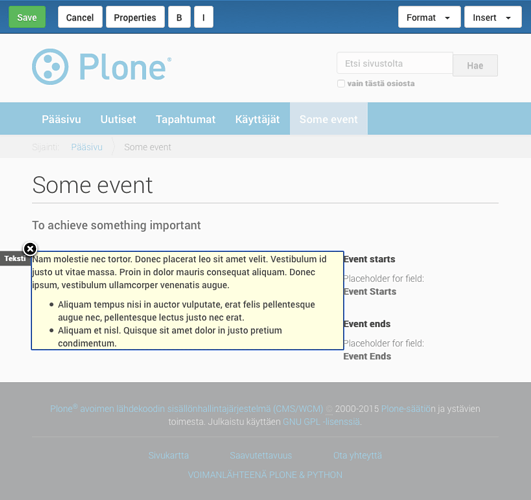 There's up-to-date introduction with screenshots for Plone 4.3.
And more information is available at GitHub.
The first minimal release for Mosaic would simply provide Layout behavior for Dexterity content types. A content type with layout behavior has a new (optional) default view called Custom layout, which would display the new tile based layout for the content. The first release would ship with only a minimum set of default tiles for the layout, but the framework is already extensible with your custom tiles.
Give Mosaic a try to see, if it's close enough for you and whether you could contribute to make the first production quality release. You can deploy the current development preview for Plone 5 to Heroku with just a few clicks.
Note: Currently, too many of the available tiles (besides "text" tile and "field" tiles) are broken in one way or another, and fixing those (technically plone.app.standardtiles) is the main work left to do.
Later Mosaic could slowly provide all the features promised for Deco (technically most of those are already included in the backend, but require significant effort to be easily usable from the front end).