At the moment we are trying to provide content-type dependent portlet renderers and managers in our application. The old application used something like this for IATDocument:
class RightContextualEditDocumentPortletManagerRenderer(
        BaseRightContextualEditPortletManagerRenderer):
    """Portlet-renderer for the right column, in the management-view.
    """
    adapts(
        IATDocument,
        IDefaultBrowserLayer,
        IManageContextualPortletsView,
        IRightColumn)

For Dexterity I tried to replace IATDocument with plone.app.contenttypes.interfaces.IDocument.
However Document does not provide IDocument automatically, it must be set through manage_interfaces as a marker interface.
There are the interfaces after creating a Document in Plone: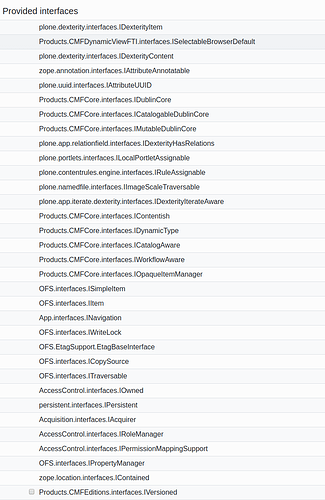 So what are the specific interfaces of the default content-types in order to configure stuff like portlet renderers specific to them?!