I have an issue on a fresh, clean plone 5.0.7 installation.
I create a dexterity content type with a required date field, and have an issue. Is this a known bug, or caused by a misconfiguration? I'd happily report this bug somewhere - but I am not sure what module it applies to. Mockup?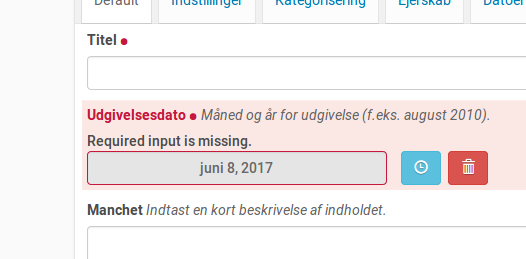 To begin with the date widget is empty, and no validation error is marked. Fine.
When selecting a date for the first time, the field is marked with a validation error. (Required input is missing.)
Sometimes the date is not inserted. The date selector stays open.
Selecting the same date again (or another date) in the open date selector inserts the date but does not clear the error marking.
Other times the date is inserted and the selector closed, but the field still marked with a validation error.
Clicking the date selector again, choosing the same (or another) date, clears the error.
Part of my code is pasted here:
from plone.app.z3cform.widget import DateFieldWidget
from plone.autoform import directives as form
from plone.supermodel import model
from plone.namedfile.interfaces import IImageScaleTraversable
from zope import schema

class IAbstract(model.Schema, IImageScaleTraversable):
    """
    """
    item_publication_date = schema.Date(
        title=_(u"Udgivelsesdato"),
        required=True,
    )
    form.widget('item_publication_date', DateFieldWidget)

All the best,
Sune Wøller