Yesterday I went to edit a pre-exiting page on my 5.0.5 site, clicking on the edit button. Imagine my surprise when the page finishes opening in the tinymce editor and there is no content in the editor window! All content, text, table, lists and image were completely gone. This is completely repeatable. I opened in Tools/source code and this was it: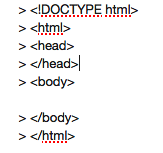 Needless to say I didn't save the changes. This problem doesn't happen on any other page. I can create new pages and no problem. However when I copy/paste the entire page, the resulting page has the same issue. Also, when I copied the content from the problematic page which was opened in .../view and paste it onto a newly created page, this new page will have the same disappearing content problem. I've checked error logs, nothing.
I've got lots of ways I can work around this problem but I thought it was something interesting to share. Any ideas?