I'm new in Plone. Try to deploy it on my Debian 10 server.
I've deployed ZEO Server and clients daemons, so when try to access to client locally I see a Plone first webpage – something like "Add new site …". It doesn't work properly (Internal Server Error when I add a new site (http error 500) ), but at least, I can see a normal page, anyway …
When I access to this (first) webpage from internet remote PC, every resource on webpage tries to load from locacalhost (127.0.0.1 ): .css, images, icons – so, actually, nothing was loaded. (See an image below)
Any advice. What is wrong?
Thanks in advance.
Here are some things that describe the situation.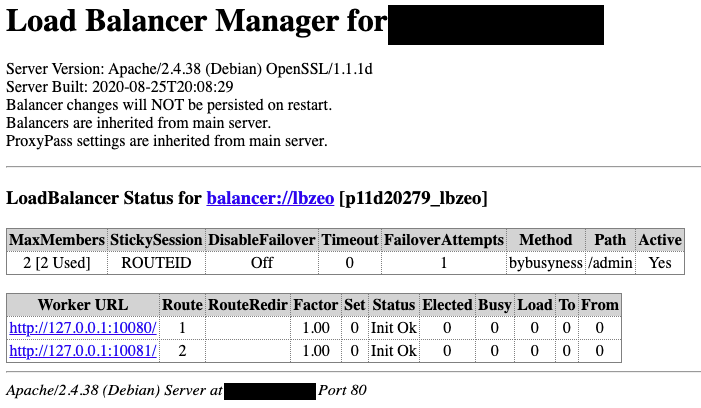 <VirtualHost *:80>
    ServerName  www.site.io
    ServerAlias site.io
#    ServerAdmin admin@site.io
    ServerSignature On

    AllowEncodedSlashes NoDecode

    LogFormat       combined
    TransferLog     /var/log/apache2/www.site.io.log

    <IfModule mod_proxy.c>
        ProxyVia On

        # prevent the webserver from being used as proxy
        <LocationMatch "^[^/]">
            Deny from all
        </LocationMatch>
    </IfModule>

    # Balance load between 2 ZEO front-ends
    <Proxy balancer://lbzeo>
        BalancerMember http://127.0.0.1:10080/ route=1
        BalancerMember http://127.0.0.1:10081/ route=2
        ProxySet lbmethod=bybusyness  stickysession=ROUTEID
    </Proxy>

    # Note: You might want to disable this URL of being public
    # as it can be used to access Apache live settings
    <Location /balancer-manager>
        SetHandler balancer-manager
        Order Deny,Allow
        # Your trusted IP addresses
        Allow from 127.0.0.1
    </Location>
    
#    <Location /admin>
#	       ProxyPass        balancer://lbzeo stickysession=ROUTEID
#    </Location>

    ProxyPass /balancer-manager !
    ProxyPass             /admin balancer://lbzeo stickysession=ROUTEID
    ProxyPassReverse      /admin balancer://lbzeo stickysession=ROUTEID
    
    ## Disk cache configuration, if you really must use Apache for caching
    #CacheEnable disk /
    ## Must point to www-data writable directly which depends on OS
    #CacheRoot "/store/cache/plone_site.io"
    #CacheLastModifiedFactor 0.1
    #CacheIgnoreHeaders Set-Cookie

    # Debug header flags all requests coming from this server
    #Header append X-vxlab yes
    Header add Set-Cookie "ROUTEID=.%{BALANCER_WORKER_ROUTE}e; path=/" env=BALANCER_ROUTE_CHANGED

</VirtualHost>