I generated json files from my source Plone site using collective.jsonify and then used a custom script to import my items (including News Items) into my Plone 5 site.
The content actually works and I can view the lead images associated with my News Items. Until I attempt to change a setting on the News Item (without changing the lead image itself) I get a "Wrong contained type" error... as if it can't save the existing lead image back to itself.
see screenshot: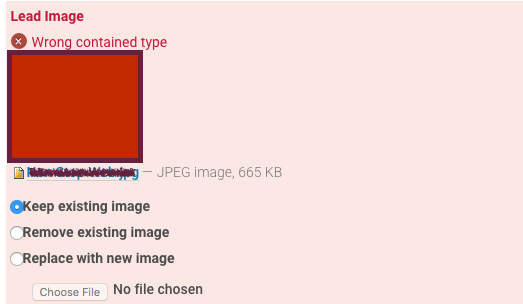 For your reference I've included a snippet that demonstrates how I create my news items from the source json files.
from plone import api
from plone.app.textfield.value import RichTextValue
from plone.namedfile.file import NamedBlobImage
from base64 import b64decode

# the json file is loaded into a variable called "data" 
def create_news_item(level, id, base_path, path_, name, data):
    otherdata = {
        "exclude_from_nav":True,
        "contributors":data["contributors"],
        "text":RichTextValue(data["text"]),
        "allowDiscussion":data["allowDiscussion"],
        "atrefs":data.get("_atrefs", {})
    }
    _path = "/".join(base_path.split('/')[:-1])
    if level > 1:
        container = api.content.get(path=_path)
    else:
        container = api.portal.get()
    if container and id not in container:
        obj = newsitem = api.content.create(
            type='News Item',
            title=name,
            id=id,
            safe_id=False,
            container=container,
            **otherdata)
        obj.setLayout(data['_layout'])
        obj.setExpirationDate(data['expirationDate'])
        obj.setEffectiveDate(data['effectiveDate'])
        obj.reindexObject()
        setuid(obj, data['_uid'])
        setImageData(obj, data)
        setTransition(obj, data)
    else:
        print "content already present for {}".format(base_path)

def prep_image(imagename, data, content_type ):
        """ load image from data string """
        return NamedBlobImage(
                    data=b64decode(data),
                    contentType=content_type,
                    filename=imagename)