We have been using ZRS for a while but we still have the problem of a single point of failure on the blob storage. In the past I read about GlusterFS but many people said it had issues with small files and complex directory structures... just our use case.
Recently we stumbled upon @djay tweet on it:
So we decided to give a try: installation was smooth under Ubuntu 14.04 and I was able to mount a volume distributed in 2 Digital Ocean droplets following a couple of howtos.
Problems started when I decided to test a real environment: I created the volume and configured it and when I started copying the blob storage inside it, weird things started to happen.
First the second server became somehow unresponsive: some commands did not run like a single df -h. I restarted the machine and returned after a few hours, then I saw the CPU usage was on some sort of oscillation.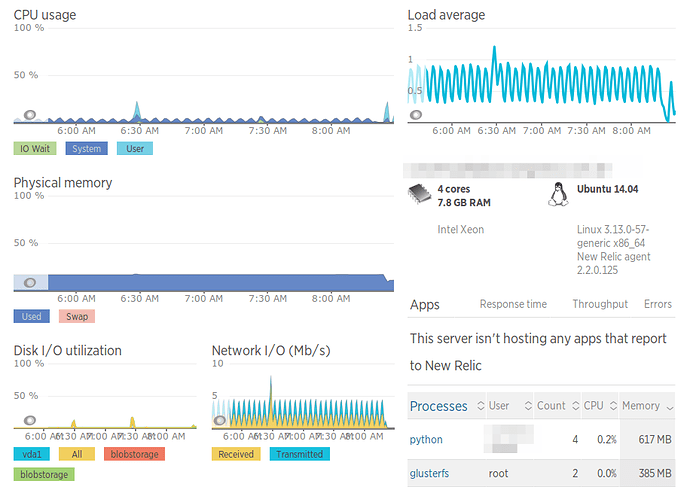 When I started my stack (nginx, Varnish, ZRS server and 4 Plone instances), I found that I was not able to reach Varnish on port 6081, neither the Plone instances on ports 8081-8084. I had to stop the GlusterFS volume to being able to reach them but seems ngnix is still unable to reach Varnish and I'm getting a lot of timeout errors on the log.
This test was not on the biggest site we're running so I guess either my configuration has problems or simply GlusterFS is not the right tool for this job:
$ sudo gluster volume info
 
Volume Name: blobstorage
Type: Replicate
Volume ID: 12345da2-40fc-4c61-a53e-123456e4dd96
Status: Stopped
Number of Bricks: 1 x 2 = 2
Transport-type: tcp
Bricks:
Brick1: server1:/var/blobstorage
Brick2: server2:/var/blobstorage
Options Reconfigured:
diagnostics.brick-log-level: WARNING
diagnostics.client-log-level: WARNING
nfs.enable-ino32: on
nfs.addr-namelookup: off
nfs.disable: on
performance.cache-max-file-size: 2MB
performance.cache-refresh-timeout: 4
performance.cache-size: 256MB
performance.io-thread-count: 32
performance.write-behind-window-size: 4MB

I've been looking for alternatives and I read about using NFS with DRBD and Pacemaker but I'm not very enthusiastic because of the complexity on having to add 2 new technologies to our current stack.
What are you guys using nowadays to deploy HA sites with Plone?